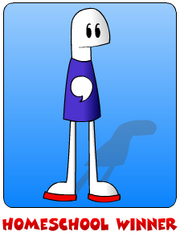 This page is for Homeschool Winner from ANY person's continuity.
Name: Homeschool Winner
Birthday: April 12, 1976
Age: 33
Gender: Male
Likes: Science, math
Friends: Strong Sad, Marzipan, The Cheat, Homestar Runner, Homsar, Dijjery-Doo
Enemies: Strong Bad
Love interest: Strong Glad (The Strongs' sister)
Fun Fact: Favorite food: pizza.
Basic Infomation
Edit
Homeschool Winner is Homestar's twin brother. He's the brains of Free Country, USA (second brains is Homestar Jr.). He has a creepy edge to him, but he's loyal to his friends, and listens to their problems. Homeschool gets along well with Strong Sad and Homestar Jr. (his nephew).
(coming soon)
(coming soon)
Community content is available under
CC-BY-SA
unless otherwise noted.